What is Onsen Musume?
For everyone who has learned about Onsen Musume through the new radio show on Nippon Cultural Broadcasting or by way of our collaboration with Chunithm, we have created this overview that will explain what Onsen Musume is.
•What is Onsen Musume?
Onsen Musume is a multimedia regional revitalization project that is spreading the word, both within Japan and abroad, about the charms of hot spring areas and regional towns across Japan. It does so through the use of character-centered intellectual property (IP) that extends across media including anime and comics, and that features the characters themselves as well as their voice actors. Onsen Musume's operating company has been named a Cool Japan Company by the country's Cabinet Office, while the project's characters have taken on roles including those of Tourism Ambassadors for the Arima Onsen area, and promotional characters for Skymark Airlines and Keihan Bus.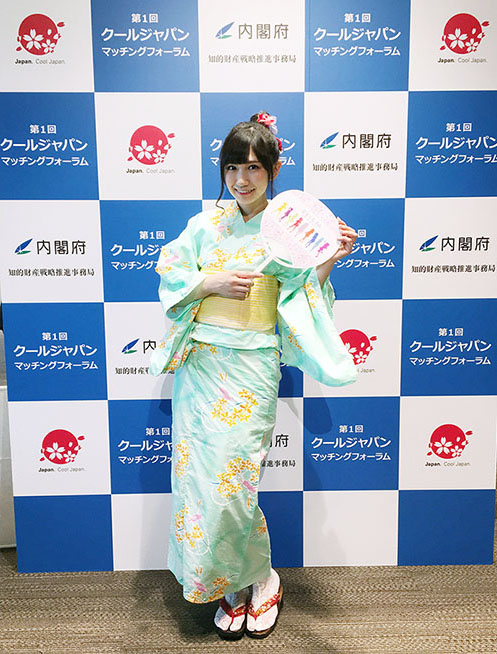 •What is the story of Onsen Musume?
The Onsen Musume who make their homes in locations throughout Japan are deities who were born when water first began gushing out from the sources of hot springs. Their appearance is no different from that of a human. On most days, they attend Onsen Musume Normal School on the island of Odaiba, where they study "Onsenology," the science of hot springs. They live in ryokan (traditional Japanese-style inns) in their hometowns. After school and on days off, they help out at the ryokan, as well as in places such as the tourist information centers in hot spring areas. In order to create excitement in hot spring areas throughout Japan that (in the Onsen Musume story) have started to see dwindling numbers of tourists, the Onsen Musume are instructed by Sukunahiko, the highest-ranking hot spring deity, to work as idols (a type of song-and-dance entertainer that is popular in Japan). This leads the Onsen Musume to form a number of different groups and spread the word about their hot spring areas through song, dance, and on occasion, other extracurricular activities.
For more information, please see this glossary page.
•Who are the members of Onsen Musume?
Nearly 100 Onsen Musume characters have been unveiled thus far. To start with, we would like to introduce you to the characters who will appear in the smartphone game Yunohana Collection, which is scheduled for release this summer. You will be able to enjoy each of these characters' stories in the game.
For more information, please see our page on the game.
SPRiNGS, a group made up of nine of the Normal School's most eccentric and unique students, acts as the main Onsen Musume group. Then, there's AKATSUKI, a three-piece group with great potential. LUSH STAR is a group with exceptional chemistry, consisting of five close friends. Adhara is a seven-piece group rounded out by members who were drawn to the charisma and popularity of Kira Kurokawa, the group's central figure. Finally, their group may appear to be an afterthought at the school, but the four members of petit corolla are all popular Onsen Musume. That makes a total of five groups that are currently active, with more new groups expected to appear in the future, along with solo projects.
For more information, please see this music page.
•What are Onsen Musume's current activities?
For starters, there is YUKEMURI FESTA, an event at which around six cast members performing the roles of Onsen Musume characters appear for every edition, and which is held monthly at venues such as the International Terminal at Haneda Airport. At this event, the performers appear in hakama (traditional Japanese pleated skirts)—which are part of the uniform at the Normal School that the Onsen Musume attend—to give talks and present performances including short-form dramas. In addition to that, SPECIAL YUKEMURI FESTA is a regional event that includes mini-concerts. Past editions of this event have been held in the cities of Kobe, Sendai, and Beppu. Another edition of this event is scheduled for August 5th in Sapporo.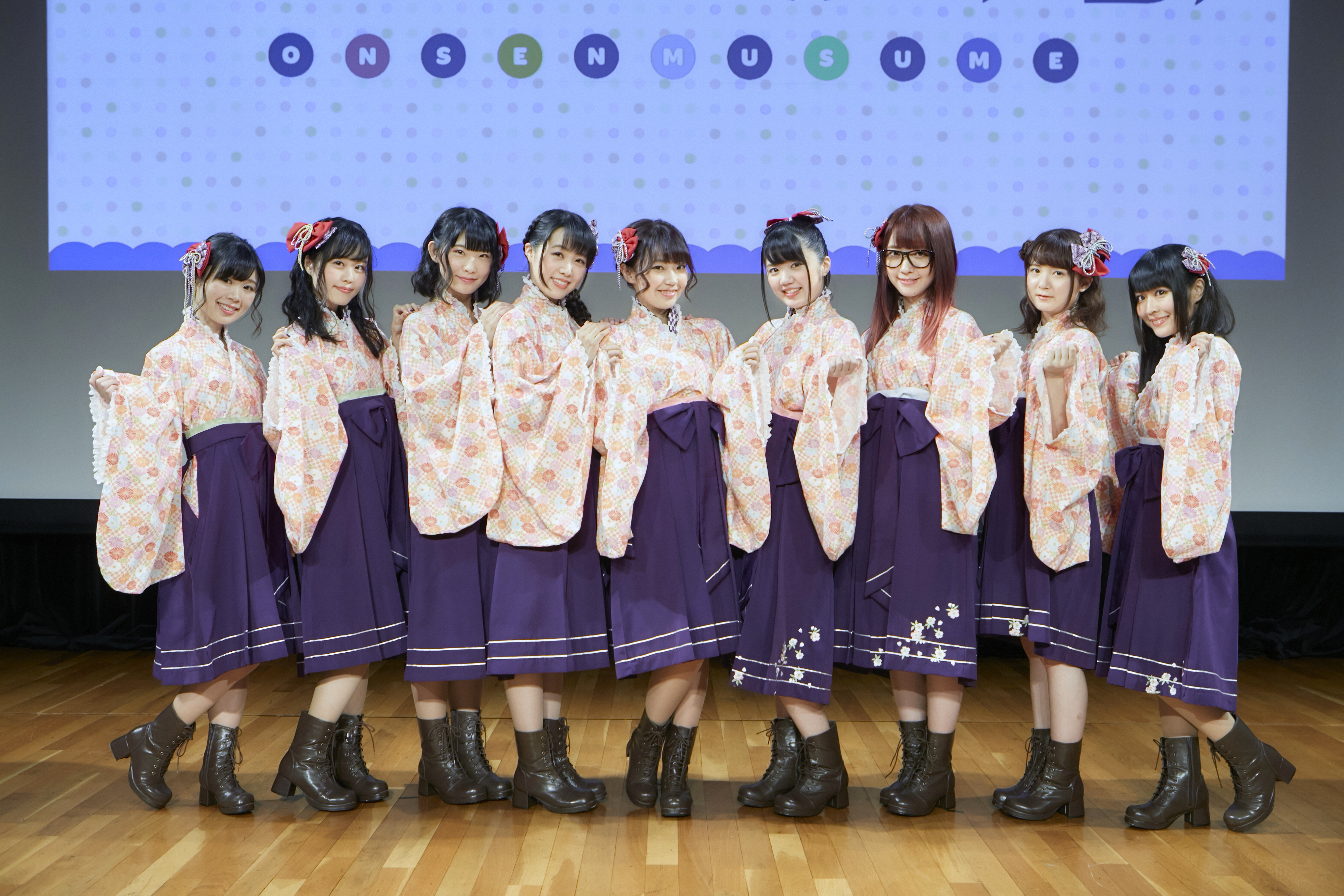 For more information, please see this event page.
Onsen Musume also holds live musical performances on a regular basis. To date, its groups have done two concerts, and the third will be held on May 19th. At this upcoming concert, a cast of 23 characters will perform, including members of SPRiNGS—the main Onsen Musume group—as well as AKATSUKI, LUSH STAR, and Adhara.
Onsen Musume's second concert, their most recent live performance, can be seen on Blu-ray Disc, to be released April 13th. This live video captures the first-ever performance by all nine original members of the main group of Onsen Musume in an emotional, priceless concert that is both a beginning and an end.
Additionally, internet radio shows featuring Onsen Musume (Animate Times and Nippon Cultural Broadcasting A&G+) are updated every Monday. A one-panel comic strip is published on Wednesdays, and a four-panel comic strip is published every other Thursday. An Onsen Musume web comic series will begin in May.
An audio drama CD and a novel have also been released. With these, you can learn about the story of Onsen Musume's beginnings, and about the characters in the main group.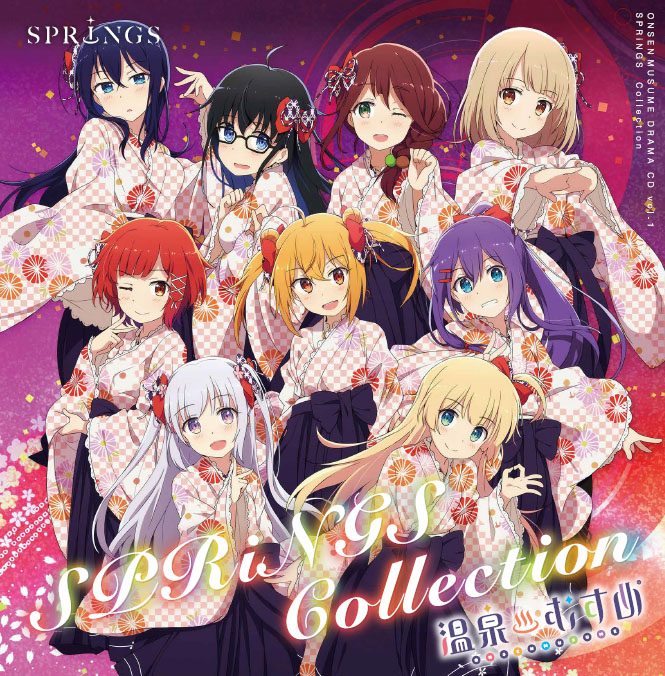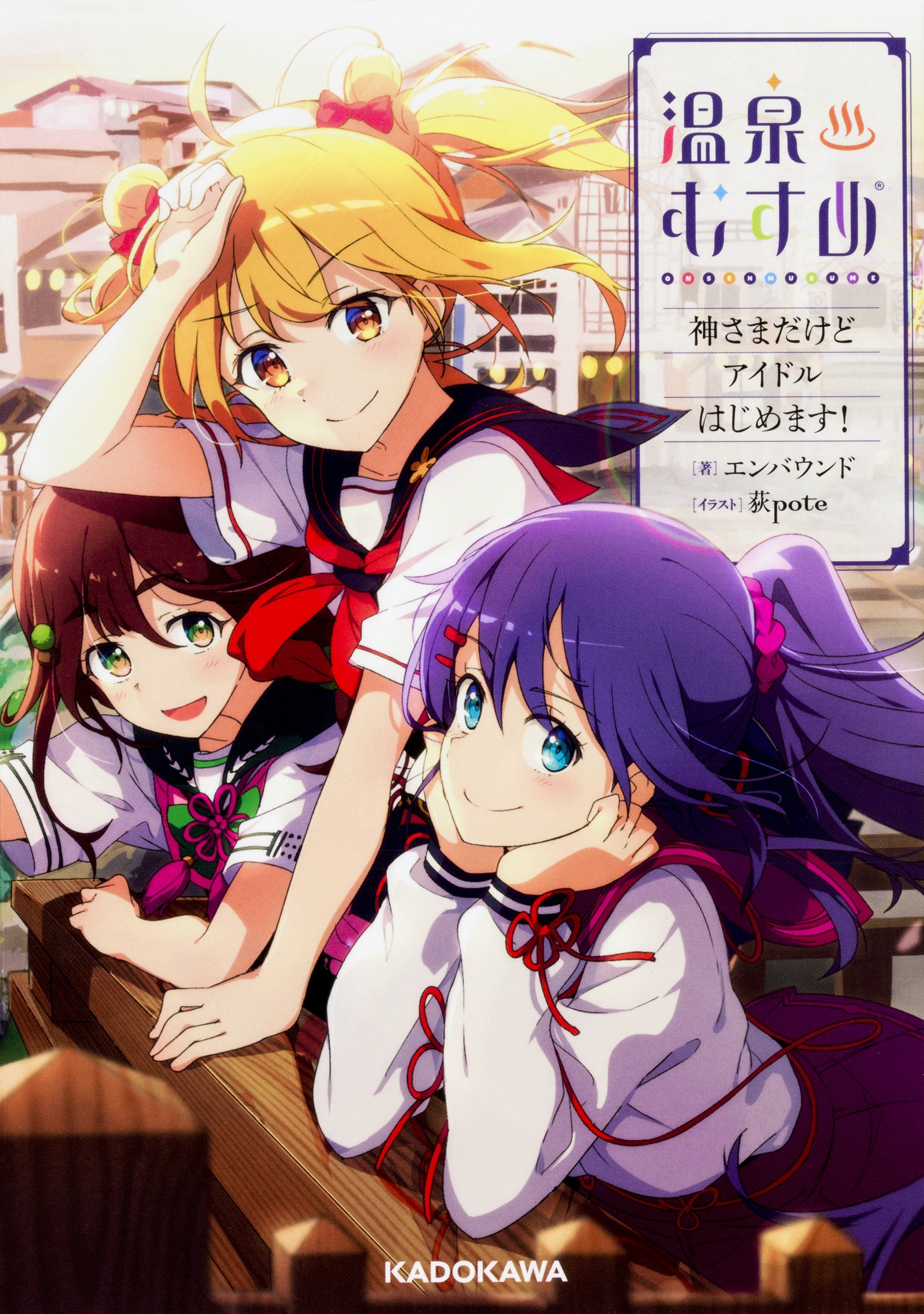 Audio drama CD&Character Novel
•What is unique about Onsen Musume?
Onsen Musume's greatest distinguishing features are that it features around 100 characters chosen from Japan's 3,000 hot spring areas, and that each of those characters has a different illustrator and voice actor. Thanks to the involvement of so many creators and voice actors, Onsen Musume carries with it the desire that we all share, to create excitement in hot spring areas. We also put great care into the quality of Onsen Musume's songs, costumes, and dances. We have entrusted our costume production to OSARECOMPANY, which does the same for the AKB48 Group, and our choreography to dancers who have done choreography for a long list of idols. Onsen Musume's songs are also written by a host of top songwriters.
•What's next for Onsen Musume?
Onsen Musume's missions are "Regional Activity" and "Regional Creation." Going forward, in order to create excitement throughout Japan, we are working in partnership with municipalities and many hot spring areas to further expand the promotion of inbound tourism to a growing number of visitors from abroad. Rather than putting anime and games, which often play out as short-lived fads, at the core of our content, we are moving forward with activities that are firmly rooted in local towns and regions.
一覧に戻る